Here's another story about tracking down the creatures in my new poetry book called Vanishings. It has been through 8 proofs so far with another to come when a few illustrations have been added and I have decided about a particular word in one of the poems that is really bugging me!
Firstly, I need to assure you water voles are not rats.  They have lovely snub noses and their tails are furry and not scaly like a rat and they are vegetarian.  They are one of the rarest mammals in the UK, having decreased by a jaw-dropping 90%!
I wanted to see one ( so as to give myself permission to write about it in Vanishings) though I soon discovered there aren't that many in Devon, our rivers being fast and furious at times as their catchments are up on Dartmoor or Exmoor, making them volatile. Water voles like quiet water as they need to make burrows in the banks or on the land round about and fast-flowing waters can drown them, as well as creating stony terrain round about.  Watch this to learn more.
I began to cross off other possible places further afield as they are elusive animals and I knew I could well be disappointed by not seeing one and that would be even worse if I had travelled a long way. (Writing this now I am struck by how travelling to the next county seems such an odd thing to even consider! Did we ever do that?)  So after doing some research I discovered that one of the country's foremost water vole conservationists and breeders, Derek Gow,  has a sanctuary in North Devon!  He is a specialist in water vole conservation and has set the standard for their translocation.
When a developer finds water voles on a development site it is incumbent on them to keep them  safe and to preserve their habitat as water voles are critically endangered.  This is sufficient grounds for refusal of planning permission.  To do this they contract someone like Derek Gow's consultancy to capture all the water voles on the site and keep them safe until the development is finished and then the water voles can be returned or be translocated. It is called mitigation.   Derek Gow also breeds water voles for release into the wild and several sites across the country have been successfully re-populated.  When I went to visit his centre there were hundreds of breeding water voles in cages, fed on a diet of carrots and apples.
There were hundreds more ( the ones saved from developers) in large outdoor cages with water and shelter but I didn't see one of them.  They are incredibly sensitive to smell and sound and so there was no way I could hide my presence.  While I was around they wouldn't come out.
But I did meet a water vole eventually that day.  They are only taken out of the cages with a Pringles cylinder so they can hide inside it. These tubes enable water voles to be captured safely and are a great conservation tool.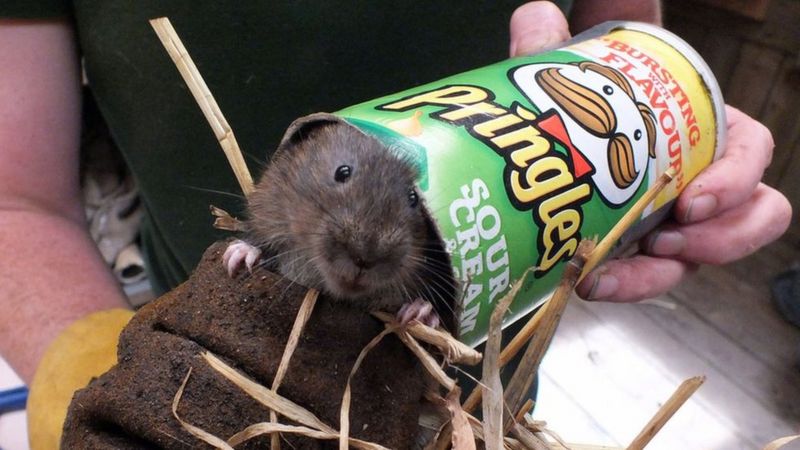 But they are very shy and if they are due for release they must be kept like that.  I wasn't allowed to touch though my hand involuntarily stretched to stroke it.  It has whopping great orange teeth!
I discovered some of these voles were due for release quite soon at Seaton Wetlands so later in the summer we visited this beautiful stretch of reedbed and marshland and lakes in East Devon, perfect habitat for water voles.  When we arrived there was a board with a chalked list of latest sightings and it said prolific numbers of water voles.   We excitedly looked all over for water voles and didn't spot one anywhere. Some bird ringers said we'd no chance!
In a different part of the reserve we found a quiet lake and had given up on ever seeing one.  That, I have learned over time, is the one time when you might see one. You can't just pretend to yourself you have given up hope. You actually have to feel no hope.  I had reached that point… when I found a little voley pathway leading up from the water's edge.  That was almost good enough of me. I had after all seen the one in the Pringles container so officially I could write about them.  And then I saw one on the far side of the pool:  a chestnutty back and head was just swimming along between a few spikes of reeds and under the shade of a tree branch. It was so quick there wasn't time for my husband to turn and see it. But as soon as my eye lingered on it, it sunk into the dappled water-shadow and did not re-emerge.
Here is my poem, published in the last issue of the wonderful Pennine Platform:
Still-waters
 Among reflections
refractions of stalks
stone-shine       waterwink         rain shirr
where tree-trunks wiggle
shivery leaves blur
their noses lead ripple trails
along muddy edges     in squidge
they gnaw out holeways     to guard
with bicker and toothicuffs
where shadows that move spell danger
they flop-plip     create a chorus
of vanishing splishes
drippling     to weightlessness
of sub-aqua       mudclouds
they sink-in-a-blink.
beside or below     inside-out or back-to-front
they burrow and frisker in what they embody
– water love    water soul.