Last night was a Zoom celebration of the poems from the Mary Evans Picture Library in London which is a treasure house of amazing images from the past and present and open at all hours. Gill Stoker's poetry blog is a strong branch of the library and has been running since 2015 with a new poem added every week, all matched to its photos and pictures.
I have had a few poems on the blog but the one I chose to read last night stemmed from this photo of a boy completely absorbed in his make-believe from a time when farmyards had a variety of animals wandering around, including scrapped cars.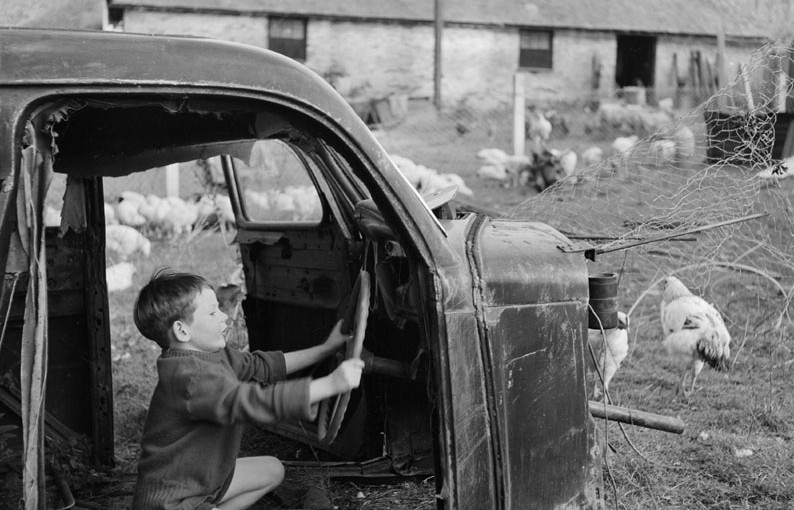 Organised and hosted by the terrific South Molton Arts Destination, last night's event attracted an audience from literally all over the world. The pictures were displayed full screen as the poet read their contribution and explained a little about the connection between words and image. It was wonderful to hear from the poets how the poems sprang from the chosen subject. The evening brought joy to everyone at this difficult time.
Poems were varied as the pictures (from Breughel to a barometer and the Titanic and couch grass to clouds and swallows just to name a few) and came from Jill Sharp, Jane Clarke, Rosie Jackson, Janet Sutherland, Martyn Crucefix, Alison Hill, Richard Westcott, Sarah Westcott, Robin Houghton, Vivien and John Freeman, Derek Sellen, Chris Hardy, Rosie Johnston and myself. All the poems on the blog are to be found on the left hand side of the page.
South Molton Arts Destination is definitely a great station to stop at on your Zoom travels and they have a plan for more events through this year, some of which may end up in real life if lucky. Meanwhile everyone can enjoy their festivities from their own sofa wherever they are.
Submission of poems about any picture in the library is open to everyone so why not delve into the library and see which picture speaks to you? Gill states everyone is invited.
This was another picture I chose to write about but didn't read last night as it's so sad: